Your voice matters
Your legislators work for you, and they want to hear from you. Call, send an email, or write. Tell them why you want to stop bullying of elderly and people with disability, and that you ask them to support and to pass the Stop Bullying Coalition bill. It's a simple ask:
A help line with rapid intervention to investigate and protect victims.
Accountability for landlords: they must assure peaceful enjoyment.
Click here to find your legislators.
Thank you for what you do.
---
Please stay in touch
To sign up for the free newsletter:
---
Togethering
Consulting, Training, Education, Publishing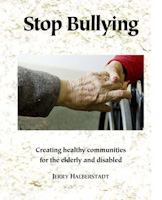 Halberstadt, Jerry, Stop Bullying: We Can Create Healthy Communities for the Elderly and Disabled. (Peabody MA: Togethering Press, Forthcoming 2018)
Ask for review copies and free copies for advocates.
Togethering is a sponsor of the Stop Bullying Coalition and this web site.