Georgetown Housing Banishes COVID-19 and Bullying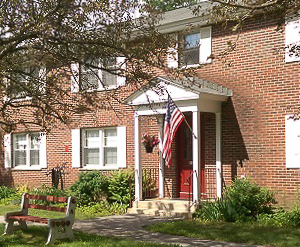 Public Housing in Georgetown: Trestle Way
Working together takes trust and solidarity. How is trust developed? What does it take for people to develop solidarity and community in a healthy way rather than toxic? I have examined situations that may help to understand these issues by comparing the healthy and the toxic, situations that exemplify the problem and/or a solution.
Here is the story of one public housing community, Trestle Way in Georgetown; the Director, Diane Drinan; and a generous town.
Georgetown is a community of about 10,000 in Essex County, Massachusetts. According to the 2010 census the median income for a household in the town was $108,137. About 2.7% of families and 4.2% of the population were below the poverty line, including 3.8% of those under age 18 and 5.5% of those age 65 or over.

The Georgetown Housing Authority receives state aid and is overseen by the Department of Housing and Community Development (DHCD). Trestle Way has 126 1-bedroom units of public housing for elderly and disabled.
Trestle Way, a healthy community
Diane Drinan is the Executive Director in Trestle Way, where there has not been a problem with bullying for a decade. Drinan's method is simple: she doesn't tolerate false accusations, and when she hears of a problem, she intervenes. The other side of her personality is empathy.

Today, the only problem with COVID-19 protocols at Trestle Way is that one of the oldest residents sometimes forgets to wear her face covering.

In Trestle Way, residents of the town have provided extensive support during the COVID-19 crisis. Drinan says, "It is just so thoughtful and heartwarming—the help that comes to our Trestle Way community. This has never happened before, we have always been tucked away in our own housing community. And now, there has been an outpouring of support from groups and individuals, all sparked by the local Facebook community. People drive up with their trunks full of toilet paper, a group donated candy, someone delivered peanut butter, bread, jelly, and every day there is someone that comes in to be of help.

Drinan distributes the donations on a regular basis. Gift cards and donations enable Drinan to purchase a meal for all residents every week. She said, "I call to order on Monday, and pick the food up on Tuesday so I get the senior discount. We provide this meal weekly, and when the money runs out, we'll have meals on wheels." The donations and gifts have come in from the VFW, the Boosters, Kiwanis; and Drinan has a number of people she can call for help.

Drinan concludes, "COVID-19 has a silver lining, it is the wonderful generosity of people in Georgetown."