Remembering Billie McGregor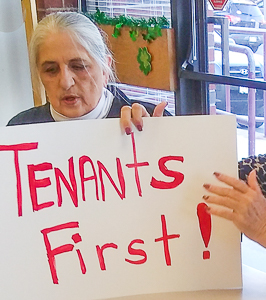 Billie McGregor was a force of nature, motivated by a deep sense of decency, morality, justice, and empathy. She was a whistle blower, and advocate for tenants of public housing; making herself heard in the public square, demanding the highest levels of responsibility. But few did match her expectations of duty and service.
My impressions of her were formed in the public meetings of the board of the Salem Public Housing Authority. At those meetings, Billie's wrath was equally directed at board members, management, and leaders of the tenant association. She stood and declaimed that, they should resign...they needed to get training... they should respond to the needs of all tenants.
Billie was motivated to assure every tenant would be respected and their basic housing needs would be met. She envisioned that all tenants throughout the properties of the housing authority would be joined in a city-wide, democratic, and responsible tenant association. Indeed, for a few years, Billie and her colleagues had shared the leadership of such a city-wide association. In 2019, Billie took a responsible leadership role again, representing tenants in the search for a new executive director.

I attended the meetings of the Salem Housing Authority during 2019 as part of developing and producing a documentary film on the problem of bullying in housing programs. When we began the Salem part of the project, it seemed that positive change was imminent. We film producers were planning to document examples of housing authorities where the environment was toxic with bullying, and situations of healthy community life, and Salem seemed to be a situation where a toxic situation would be remedied.
In Salem housing there was more than enough bullying to study. Many residents had seen the previous administration as overbearing and bullying, and in at least one of the developments there was a toxic environment punctuated with fear, gossip, bullying, in addition to group bullying mainly orchestrated by the leaders of the tenants association.

Billie had good judgement, she was careful to investigate before reaching a conclusion. I found that many of the issues she raised made good sense. And what stood out was her desire to help organize people and create a positive community. Billie was an experienced leader, advocate, and organizer.  Billie not only demanded that tenants receive their rights and respect, but she held tenant associations to high standards and did not tolerate bad behavior even in a good cause.

I learned much from our short acquaintance and came to admire her for her decency, honesty, and dedication to service.

Billie had the qualities of a true leader, qualities which seem to be lacking everywhere we turn in our political landscape. And qualities of empathy and integrity that made her a true friend to many.

At this time, much has changed for the better; but there is still a lot of work to do, and Billie let everyone know what needs to be done.
Salem will be the poorer without Billie's efforts as an advocate for tenants and as the town whistle blower.
May we be blessed by her memory.