Editorial: Safety Earns Trust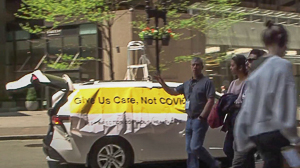 On May 11, 2023, the Massachusetts Coalition for Health Equity broadcast statements by advocates for safe healthcare using a large TV in the rear of a van that displayed a banner, "Give Us Care, not COVID." The van appeared at the office of the Department of Public Health and at the State House.  Image taken from video by Mary Jirmanus Saba, courtesy Mass Coalition for Health Equity.
Can We Trust Hospitals to Protect Us from COVID?
We should be able to trust our hospitals, our doctors, and all healthcare professionals. Today, not so much. The Commissioner of the Department of Public Health has proclaimed the end of the mask mandate, and many hospitals now actively discourage staff from masking and erect barriers to requesting a reasonable accommodation for caregivers to mask.
Their justifications for abandoning universal masking in healthcare settings are not valid, and their obviously false statements undermine trust.
I don't want to discourage you from seeking medical help; I can't give medical or legal advice. However, since the medical system is abandoning us, we need to take greater personal responsibility. I am writing to warn of the potential danger that each of us can avoid by protecting ourselves.
Using N95 and other high-quality masks can protect everyone. COVID is mainly spread by airborne aerosols, tiny, invisible droplets that can carry the virus. Protecting ourselves against infection is done by layers that create barriers to those droplets: everyone wears N95 masks indoors and in crowded settings; good ventilation to bring in fresh air; filtration of indoor air; and separation from those who are, or may be, infected. People can be infected and not have any symptoms but still can spread the infection.
The reason for masks is to stop the virus from spreading.
Sick people go to the pharmacy, the doctor, and the hospital. If there are people gathered and any one of them has COVID, anyone else in the room can catch it. Some people have COVID and don't have symptoms but can infect other people. Masking is a nuisance. But getting COVID is really a lot worse!!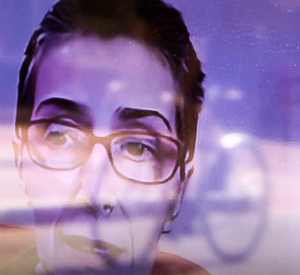 What can we do?
The Stop Bullying Coalition is partnering with organizations that advocate for restoring the universal masking rule in healthcare. Each of our partners has a common goal, to restore universal masking, based on separate and overlapping policies.
We join the effort because the science shows that layering of protections, including universal masking is protective and the justifications for ending masking are not supported by the facts. We argue that safety is paramount not only for those of us who are most vulnerable to severe outcomes but for everyone, because COVID can kill and long COVID can disable anyone. Those of us who live in subsidized or public housing for the elderly and disabled are all very vulnerable.
Our partners include:
The Massachusetts Coalition for Health Equity (MCHE) is a diverse coalition of healthcare workers, public health advocates, and community leaders who recognize that equity and justice are essential to the health and well-being of all residents of the Commonwealth. The coalition works to promote the public health, federal and civil rights, and well-being of all residents of the Commonwealth of Massachusetts.

Center for Public Representation: Focus on the strong legal rights provided by the ADA. Information about your rights for Reasonable Accommodations under the ADA for Patients with a Disability in Health Care Settings.

Dignity Alliance Massachusetts consists of advocates for older adults, people with disability, and their caregivers. Current public health and hospital policy engenders mistrust, Dignity Alliance urges the use of universal masking and other COVID precautions as part of an effort to establish a system that we can trust.
The use of N95 masks by everyone can reduce transmission of COVID as has been demonstrated in laboratory tests and in real-world experience in schools and medical settings.  Universal masking with N95 respirators (masks) offers better protection and is essential for the most vulnerable.
Act now
Wear an N95 or other high-quality mask in all shared indoor settings, including healthcare.

Call your doctor or other healthcare provider before your appointment and request that they grant your request to wear a mask; if you are at risk, make your request as a "reasonable accommodation." You are asking for a change in policies or procedures to protect yourself under the ADA law.

MA Health Equity will post the link for the weekly Wednesday 5pm zoom sessions for discussion on how to file accommodation requests and complaints.

MA Health Equity posts information on how to file accommodation requests and complaints including suggested wording. Targets include the Massachusetts Department of Developmental Services Office of Human Rights, Massachusetts Department of Public Health, U.S. Department of Health and Human Services (HHS), Disabled Persons Protection Commission, Massachusetts Attorney General - Consumer Complaint, Massachusetts Attorney General - Civil Rights, MCAD.
Advocate now for safe healthcare
---
"I think the abolition of pretty much all COVID-19 protection policies is inappropriate and tragic, especially in health care settings. COVID-19 is still very much with us and there are continuing outbreaks even today. We're still experiencing, at the current rate, more than 500 deaths per year from COVID in the Commonwealth, and that's assuming that there is no increase in the prevalence of infection. This is not over and we are grateful to people like you who continue to sound the warning bell and demand protection for the public."—Michael Siegel, MD, MPH, Professor, Department of Public Health and Community Medicine, Tufts University School of Medicine.
---
Resources
Asymptomatic transmission: https://pubmed.ncbi.nlm.nih.gov/34905008/).
COVID is airborne https://www.cdc.gov/coronavirus/2019-ncov/science/science-briefs/sars-cov-2-transmission.html 
Each reinfection increases adverse outcomes https://www.nature.com/articles/s41591-022-02051-3 
Long COVID impacts children https://www.jpeds.com/article/S0022-3476(23)00311-6/fulltext 
Universal masks in healthcare should be new standard of care https://pubmed.ncbi.nlm.nih.gov/36762631/ 
Davis, H.E., McCorkell, L., Vogel, J.M. et al. Long COVID: major findings, mechanisms and recommendations. Nat Rev Microbiol 21, 133–146 (2023). https://doi.org/10.1038/s41579-022-00846-2 
---