Vaccine Day At Peabody Fairweather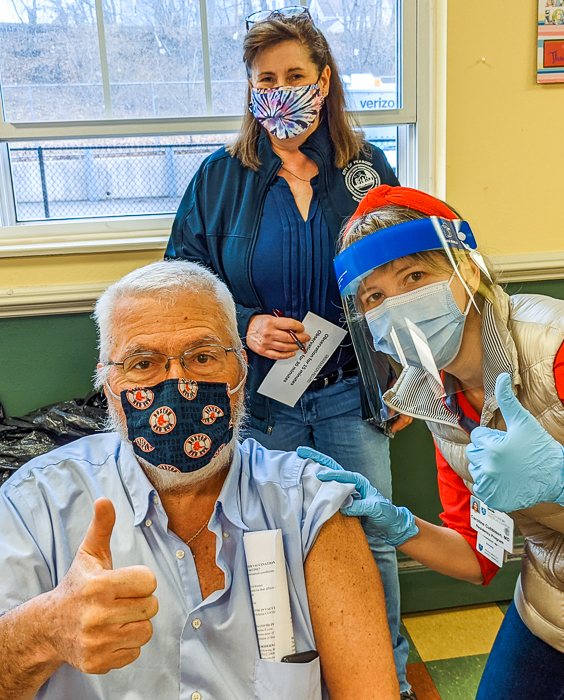 Glen Jalbert, Fairweather resident, and Caroline Cubbison, resident physician at North Shore Medical, give a thumbs up after Glen is vaccinated. Sharon Cameron, Director of the Peabody Health Department, looks on.
---
Today, on March 26, 2021, at Fairweather apartments in Peabody, a team of nurses and doctors administered a COVID vaccine to 29 people, out of a population of 80 current tenants. Some, like Glen Jalbert, and several others, had already recovered from COVID. Many of those receiving the vaccine are frail, and might not have been able to travel outside the building to a central vaccine clinic.
Sharon Cameron, the Director of the Peabody Health Department, was on hand to oversee and help. The clinic staff was drawn from local hospitals and medical facilities. They were efficient, courteous, and considerate of each patient. What a great team!
This was a significant step in protecting tenants from COVID.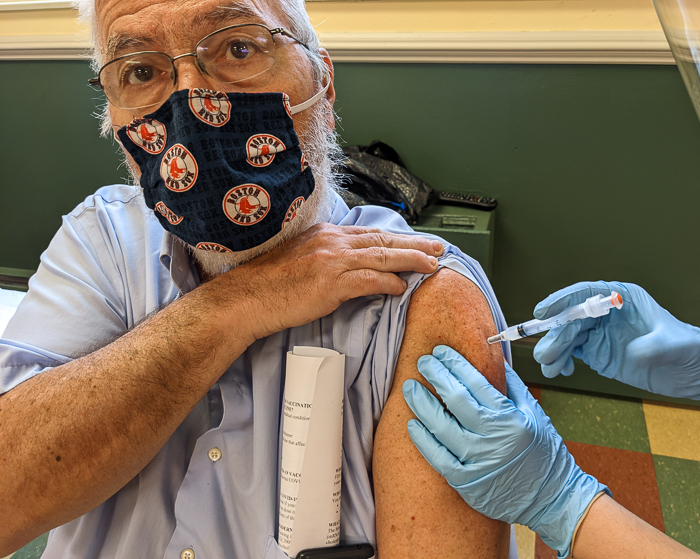 The Stop Bullying Coalition had advocated for vaccine clinics to be held in elderly/disabled housing, and had gotten media coverage in a report on WBUR. At long last, tenants are getting this important protection where we live.
But there remain challenges. Too many tenants at Fairweather still fail to mask properly and to maintain distance from others, while it is reported that a staff person was not masked while in the building. Compliance is likely to remain a problem in this setting, unless management takes steps to enforce the rules and mandates for the protection of all.
Based on an informal and incomplete sample, at least 7 persons, or 9% of the population, had already been sick from COVID prior to the clinic. It is very possible that the actual percentage of infections was as high as 18%. Absent the ability to check the official data, that is the best we can do.
Vaccination alone won't solve the problem, but this protection will certainly be an important factor, along with masking, distancing, and hygiene in seeing all of us through to the other side of the pandemic.
---