Pryde House Vandalized in Act of Hate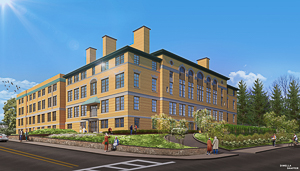 ​Pryde House, under construction in the Hyde Park Section of Boston, will convert the former William Barton Rogers Middle School into safe and accessible mixed income housing for all seniors, including LBGTQ+ seniors. LGBTQ+ stands for sexual identifications including lesbian, gay, bisexual, transgender, queer, or questioning,
On Saturday night, July 9, 2022, the Pryde House construction site was vandalized with anti-LBGTQ+ graffiti. Vandals defaced all the banners on the fencing surrounding this project, spray painting threats along with language widely considered to be offensive by LBGTQ+ people. Neighbors alerted LBGTQ Senior Housing, Inc. and the Boston Police who are investigating the incident as a hate crime.
"There has always been a high need for LGBTQ-friendly housing but particularly exacerbated during the coronavirus pandemic as LGBTQ seniors are less likely to have children or a family network to care for them…[The Pryde will be] Massachusetts' first LGBTQ-friendly affordable senior development."— LGBTQ Senior Housing
The Pryde Building is being developed by LBGTQ Senior Housing, Inc., a nonprofit dedicated to providing affordable LGBTQ friendly senior housing. The project receives financial support from federal, state, and local agencies and from charitable foundations.
"Building a city for everyone means ensuring that as our residents age, they can stay here in the City with safe, affordable housing that is welcoming to all. This new development will be an incredible asset to the neighborhood, offering not just housing, but gardens, walking trails, an art studio with gallery space, and other community benefits to truly make our LGBTQ+ seniors feel at home. As we celebrate Pride Month, this is a shining example of how Boston can breathe new life into existing spaces for the benefit of our residents."— Boston Mayor Michelle Wu
Within hours of being told about the vandalism, Gretchen Van Ness, the Executive Director of Senior LBGTQ Housing, Inc., reached out to the community through Facebook and to community leaders and elected officials. Over 100 supporters including Mayor Wu and Boston city counselors met the next day on Sunday afternoon at the Pryde for a rally to show support for the Pryde.
I wrote a comment in support of the Pryde Building, on boston.com, and I got hate filled responses. Ultimately, management of boston.com decided to close the comment section and remove all comments.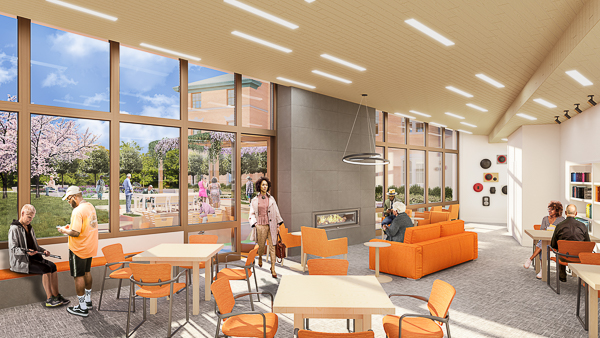 Our most vulnerable senior citizens and persons with disabilities deserve a safe and secure place to live, free of bullying, harassment and intimidation. This is especially true for seniors who are from groups that have historically faced harassment and discrimination, whether it be due to religion, ethnicity, race, or sexual orientation. I am glad that LBGTQ Senior Housing is developing affordable housing with the needs of LBGTQ+ Seniors in mind. However, I am sad that this sort of housing is clearly needed—and the vandalism of the Pryde House building site serves as a stark reminder about how ugly hate and bullying can be. I am also glad that many neighbors in Hyde Park made it clear that hate has no place In Hyde Park.
Unfortunately, the problems we have found in public and subsidized housing—the problems of discrimination, bullying, and mobbing are widespread in our country.
---
Bonny Zeh is Co-Founder, Stop Bullying Coalition. She lives in Somerville Public Housing