Overcoming hatred, building inclusive community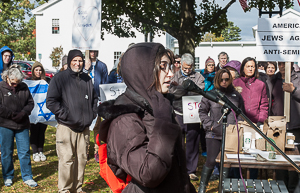 In a town where graffiti targets Jews and people of color, how can the community respond? Reading, Mass., a town of some 25,000 persons that was incorporated in 1644, is today demonstrating needed leadership.
The challenge
For some years, Reading turned the other cheek to hateful graffiti that took place in the town, holding tight to the belief that such events were better ignored than acknowledged. Fear of copycats and failure to understand the impact of these symbols as expressions of hate curtailed efforts by the Human Relation Advisory Committee and others to promote educational programs or ratify a Human Rights Resolution in town.
Reading meets the challenge
After a new spate of swastikas in the schools and the public library, Dr. John Doherty, the Superintendent of Schools faced the problem head on. He consulted with the Anti Defamation League (ADL) and met with the Jewish Community. He initiated professional development for teachers, encouraged addressing the meaning of the swastika in social studies and other classes, and wrote grants to fund the ADL's A World of Difference Peer Leader Program, Facing History, and the MVP Violence Prevention Program. The MVP grant partnered the schools with the New England Patriots and the District Attorney's office to provide training to student leaders to prevent violence.
Protocols were developed to empower everyone to address incidents of hate when they were discovered. The protocols included informing the students and school community, and using each incident as a teachable moment. In response to students' reports, a sweep was done of the buildings to find any remaining swastikas. Assemblies were held including a pilot of Upstander Training and presentations by Dr. Anna Ornstein, a Holocaust survivor and Professor of Child Psychiatry.
Teachers planned the Unity Project bringing students, faculty and community together at the high school to create a visible web of yarn that reflected the beauty of the diversity of the community.
And the leaders of the town---town manager, police chief, superintendent of schools---worked together to understand and to respond to the underlying divisions and the overt hate.
Reading Embraces Diversity
While this was happening, a new group was born: Reading Embraces Diversity (RED). With the launching of this group and the support of the Human Relations Advisory Committee, and invitations to local officials, educational programs were planned and crowds attended.
Town Manager, Robert LeLacheur, Jr. in October, 2017, at the first meeting of RED, stated an important and courageous perspective.
In Reading, during the past few months, we have seen specific hurtful and hateful symbols and words aimed at the Jewish religion, at African Americans, and at sexual identity or orientation. To be clear, these symbols and words, plus all they stand for, are not the least bit welcome in our community. They are not OK.

These acts have begun to divide the community between those that see the graffiti as a form of harmless attention-seeking pranks, typically done by kids, to those that see terror through these words and symbols of hate.

Last March, as part of the annual budget process, I stepped clearly outside the bounds of my position as defined by the Charter when I wrote these words to our Town Meeting:

"...there is an issue of deep concern to me and some of my peer Mayors and Managers: the fragile and decaying civility in public discourse certainly influenced by national politics. We see divides in our communities forming---if one looks carefully they are actually not easy to label or describe, let alone find a way to bridge...Some residents seem bent on winning a debate as if it is a contest, instead of sitting down as a community to find common ground and solutions. Unfortunately we still seem to be on that downward path, as a community and broadly as a society."---Robert LeLacheur, Jr.
Listening and learning
The next day, Reading began to turn the path upward. On October 4, 2017, RED sponsored "A Night of Listening and Learning" at Reading Memorial High School. The speakers included Reverend Jamie Michaels, pastor of Old South United Methodist Church, Town Manager Bob LeLacheur and Superintendent of Schools Dr. John Doherty, and the honored guest, Dr. Anna Ornstein.
LaLacheur noted that the town had recognized the seriousness of the grafitti along with a decay in the level of civil discourse. LaLacheur reported that he was working closely to address the issues together with Police Chief Mark Segalla and Superintendent Doherty.
---
Reading Rallies Against Anti-Semitism
A year later, on Sunday October 21, 2018, Reading marked a new chapter with a rally held on the town common, Reading Rallies Against Anti-Semitism. It was sponsored by the full Select Board and Reading Embraces Diversity. Speakers included a broad representation of elected officials, school committee, residents, Tali Shorr, a senior at Reading Memorial High School, supported by State Senator Jason M. Lewis and Representative Bradley H. Jones, Jr. as well as Robert Trestan for the Anti-Defamation League New England, and a Holocaust survivor.
All stood together and spoke about community, brotherhood, and love---and against hate.
Symbols can inflict pain
The target of hate lives in uncertainty and fear, with the resulting physiological mechanisms of stress that do internal physical and emotional damage. Two speakers made this clear: Tali Shorr, a courageous high school senior who would not ignore the swastika she discovered at school, and Dr. Anna Ornstein, who survived the death camp at Auschwitz together with her mother under the banner of the Nazi swastika.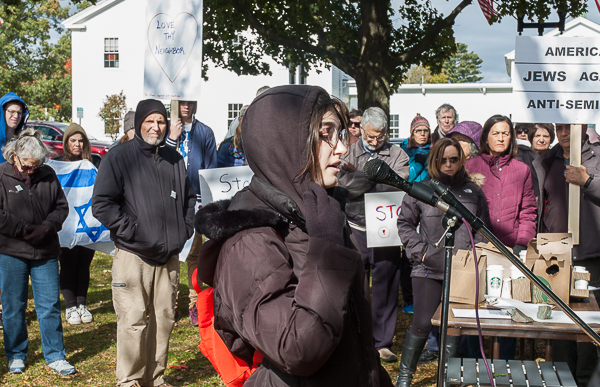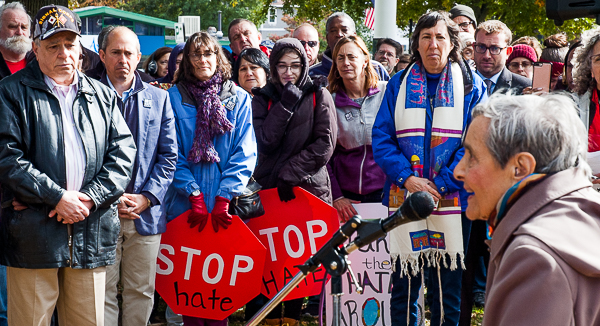 Symbolic acts can heal
Reading met on the town common to assert fundamental American values of inclusion, respect, and decency. People from other towns attended in solidarity because no community is immune, and Jay Gonzalez, a candidate for Governor, and faith leaders of several denominations also stood witness among the listeners.
The guest of honor was Dr. Anna Ornstein, Holocaust Survivor and Professor of Child Psychiatry. Her experience of facing death in Auschwitz did not crush her spirit, and she has gone on to try to understand the impact of hate on the individual, the inner sources of resilience, and to develop a process to enable a victim to heal and be resilient. She speaks to students in Reading on a regular basis in her mission of love and redemption.
The assembly listened to Dr. Ornstein in awe, recognizing a greatness of spirit and a person of compassion.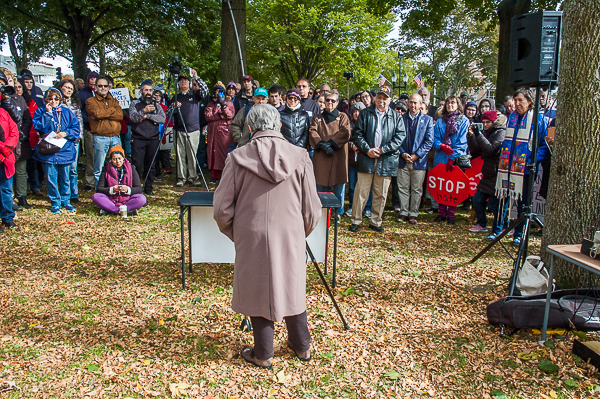 After the event, I was privileged to speak briefly with Dr. Ornstein, and we started to discuss perspectives on hate and resilience in the face of hate. Anna Ornstein is a vivacious, engaging, and brilliant conversationalist and a powerful speaker, and a person who radiates love.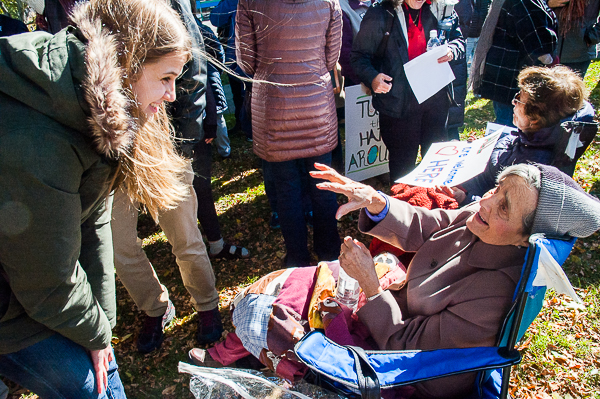 It was a new beginning for Reading as the town has begun to openly recognize a problem and can start to heal. And as Dr. Linda Snow Dockser, vice-chair of the school committee and a member of Reading Embraces Diversity noted in closing the assembly, the rally was possible because of the willing cooperation of many.
---
Can Reading be a guide for other communities?
Hate takes many forms, from malicious gossip, to targeting individuals for who they are or what they are, to hate speech, to acts of vandalism, and to social, emotional, and physical violence.
In our work with the Stop Bullying Coalition, we have learned how bullying can spread like a contagion in a multifamily residential community. Bullying is the use of psychological and social attacks on someone because they are "other" and it is the weak cousin of other forms of hate, such as hate speech. The wellsprings of hate seem to be in fear, insecurity, anger, and a search for power over others by appealing to the fear and insecurity of others. The dynamics of hatred and exclusion and power-grabbing tend to be similar at every social level. Can we ever keep hatred from growing too strong and destructive?
I believe that we need to do as Reading is doing---at every social level---band together, speak out, listen to each other, work through our differences, and keep at it.
In my lifetime I have witnessed the Holocaust which began by attacks on "the others," and ended with the murder of millions; and even today in many lands, including our own, people are being targeted for being "others"---refugees and immigrants fleeing persecution or for being a different religion or ethnicity.
Any society can run amok with hatred. Good people can turn from loving their neighbors to hating them, and even to killing them.
No human group can ever reach perfection. We can only strive to suppress our worst instincts and encourage the good. And as painful as it may be, we can never improve ourselves or our communities unless we openly confront our failings.
Can Reading be an example of leadership to other communities? Does it not make sense to organize a human rights group in order to strengthen the forces of love and prepare to defend against the forces of hate---before there is a crisis? Recovery from disaster takes more time and resources than prevention.
---
Challenge and opportunity in Peabody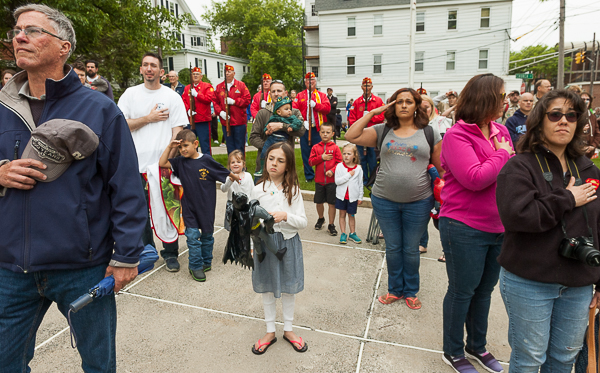 Peabody, a city built by immigrants, already has many strengths that we can draw together and build on.
Father John leads a faith group that has intervened against hate, while each of the many diverse churches and congregations offer messages of love and inclusion daily and weekly.
The Mayor and City Council lead and sponsor a variety of events and services that honor Peabody's history of inclusion and diversity, such as the annual International Festival which brings together the foods and customs of many ethnic and religious groups.
The schools embrace a diverse student population and sponsor programs including implementing the ADL peer leaders program at the Higgins Middle School. A teacher was trained to lead the program, and 30 students in the 7th and 8th grades will be trained this year. The program will continue as the trained students move into the high school, while ADL will provide training for teachers and the leadership team. The state education department has presented a workshop on transgender issues; the schools want everyone to feel safe.
The senior center hosts everyone in social and cultural activities and is a refuge for people facing stress.
A police officer works with the elderly population.
The ARC programs, including the Breaking Grounds cafe, serve the disability community and integrate individuals into every aspect of city life.
There are many individuals and groups that work to feed the hungry and serve their community.
By working together and creating a framework for discussion and cooperation around human rights, we can enhance our individual contributions to improve our city and build a bulwark against hate.
This is the American prescription for democracy and community. E Pluribus Unum: We are Many Becoming One.
This is democracy. This is what we do.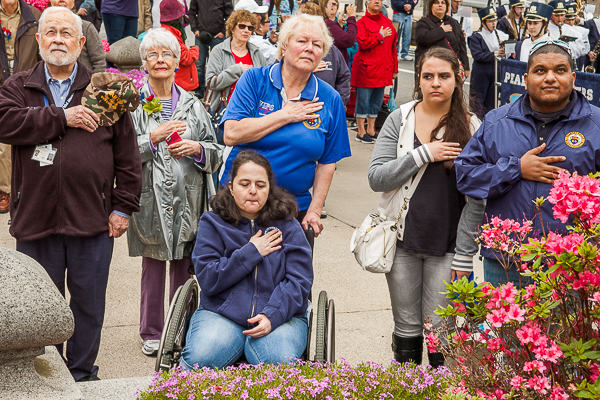 ---
References
ADL: Founded in 1913, the Anti-Defamation League (ADL) is our nation's premier civil rights/human relations organization.
https://www.adl.org/
Cristela Guerra, After swastika incidents, Reading residents rally against anti-Semitism, October 22, 2018. The Boston Globe.
https://www.bostonglobe.com/metro/2018/10/21/reading-residents-rally-ag…
Bob Holmes, RED Gets Down To Business At First Meeting. Patch.com, November 17, 2017.
https://patch.com/massachusetts/reading/red-gets-down-business-first-me…

Robert LeLacheur, Jr., at RED forum Tuesday, Oct. 3, 2017, cited at
https://www.facebook.com/ReadingEmbracesDiversity/
Steven A. Rosenberg, "Swastikas found at Reading High School," The Jewish Journal, October 18, 2018.
RED Reading Embraces Diversity; Founded in 2017
https://www.facebook.com/ReadingEmbracesDiversity/
RCTV video of the event, Reading Embraces Diversity: Rally Against Anti Semitism
https://www.youtube.com/watch?v=sf1xQ8HZrdc