One unmasked tenant sitting with others in an entrance lobby said,
"Oh, isn't it great that the pandemic is almost over, that's why we can hang out without masks."
This conversation took place in the lobby of an apartment building of 112 units in Salem public housing for the elderly and disabled, where at least 9 tenants have current or recent cases of COVID, including one recent COVID death—a rate of 8% infections.
Will vaccinations make everything normal? The Governor has reopened things, so we must be safe, some believe. But, no, the pandemic is far from over, including in housing for the elderly and disabled. Although the Department of Public Health has the site-specific data on infections, they refuse to publish it. We thus have to depend on informal reports by tenants and others to estimate the prevalence in housing. Infections in housing are very common except where people work together for safety.
In a Peabody subsidized apartment building of 80 occupied units where tenants do not consistently mask, at least 6 people were infected, a rate of 7.5%. In contrast, the Chelsea Housing Authority made continuing efforts to protect their tenants, including buying and distributing masks, and enforcing wearing masks. The rate of infection was 53/1,828=2.9%, while the death rate among tenants in Chelsea Housing Authority elderly/disabled units was 1.5%, compared to 4.8% for all the City.
Together for safety
Can we relax? Not for some time. Should we live in fear? Or can we act to stay safe?
Our safety depends on what we do to protect ourselves, our neighbors, and our community, not just on getting vaccinated, or what the Governor decides, or what new kinds of infections spring up.
To keep ourselves safe, we all need to continue masking, distancing, hand hygiene and the other precautions including avoiding indoor gatherings; and in housing, we need to work together by following the COVID mandates and protocols.
What works and what doesn't
Research published on March 12 by the Centers for Disease Control and Prevention (CDC) in the Morbidity and Mortality Weekly Report (MMWR) has found that restaurant dining leads to an increase in infections; wearing masks reduces infections. But reopening is set to begin on March 22:
"...gathering limits for event venues and in public settings will increase to 100 people indoors and 150 people outdoors. Outdoor gatherings at private residences and in private backyards will remain at a maximum of 25 people, with indoor house gatherings remaining at 10 people."

"Additionally, dance floors will be permitted at weddings and other events only, and overnight summer camps will be allowed to operate this coming summer. Exhibition and convention halls may also begin to operate, following gatherings limits and event protocols."—Press release, March 18, Governor's Press Office.
The policies of the Commonwealth are not protecting us from a new surge of infections. It is too soon to open up indoor gatherings, and the failure to enforce the mask mandate continues the level of exposure.
To keep yourself and your neighbors safe, everyone needs to double down on masking, distancing, and hand hygiene.
"I'm pleading with you for the sake of our nation's health," Dr. Rochelle Walensky, director of the CDC, said. "Cases climbed last spring, they climbed again in the summer, they will climb now if we stop taking precautions….We are just starting to turn the corner. The data are moving in the right direction, but where this goes is dependent on whether we all do what must be done to protect ourselves and others."
We know that masking and avoiding indoor gatherings, like going to a restaurant or gatherings with many others, can help keep us safe. By studying the impact of masking and restaurant dining during 2020, researchers discovered the real-world impact of these behaviors.
Mandating masks was associated with a decrease in daily COVID-19 case and death growth rates within 20 days of implementation. Allowing on-premises restaurant dining was associated with an increase in daily COVID-19 case growth rates 41–100 days after implementation and an increase in daily death growth rates 61–100 days after implementation.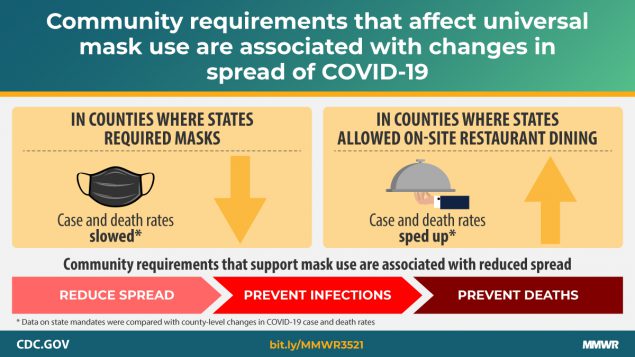 Even after we are vaccinated, we are still vulnerable to new versions of COVID. COVID can change and become a different version of the virus, a COVID "variant." Some variants are better able to reproduce and spread making it possible for them to infect more people. These new, and potentially more dangerous variants, are already here in the Commonwealth. We don't know if our presently available vaccines can protect against all the new variants. One of the new variants from the UK (B.1.1.7) is spreading rapidly in the United States, and some experts are predicting a new surge unless everyone doubles down on precautions like masking and distancing. While many people are getting vaccinated and may provide them with good protection even from the new variants, this may be offset by the ability of the new variants to spread more rapidly.
Danger ahead
The new regulations will allow indoor gatherings. Although people are encouraged to continue distancing and masking, there is no enforcement. These conditions are almost guaranteed to lead to more infections, hospitalizations, and deaths. Based on the CDC analysis of past patterns, we can anticipate that in about 20+ days, there will be an increase in infections; this will show as a higher proportion of positive tests on or about the 10th or 11th of April. We can also expect an increase of hospitalizations in 40+ days from March 22, on or about May 2, and an increase in deaths from May 2 through the 23rd of May.
Staying safe together
In the coming weeks, we may be faced with a new surge of infections. We can mitigate (reduce) the danger of harm by acting to protect ourselves and our community by the simple acts of masking, distancing, hand hygiene, and avoiding indoor gatherings. The Governor and the Department of Public Health can enforce the regulations, and we believe that there should be greater restrictions on indoor gatherings. And the legislature can mandate the administration to provide site-specific data on infections and deaths in multi-unit housing; with better information we can know where to intervene.
If we work together, we can avoid infections and deaths, and control the pandemic so that we may be able to mingle with others without fear.
We can do this together, we must.
---
References
(Guy GP Jr., Lee FC, Sunshine G, et al. Association of State-Issued Mask Mandates and Allowing On-Premises Restaurant Dining with County-Level COVID-19 Case and Death Growth Rates — United States, March 1–December 31, 2020. MMWR Morb Mortal Wkly Rep. ePub: 5 March 2021. DOI: http://dx.doi.org/10.15585/mmwr.mm7010e3external icon. )
Please note that our data on Salem, Peabody, and Chelsea are based on a opportunity reports of housing facilities, based on informal estimates by people in a position to observe.
Official current data is presented below. https://www.mass.gov/info-details/covid-19-response-reporting
---
Baseline data
Here is the baseline data for our prediction; we hope we will see these numbers improve and disprove our projections of disaster, we depend on everyone to strive for safety. Source: COVID-19 Interactive Data Dashboard, data from 17-18 March, 2021
7-day average of positivity, statewide=1.93%
COVID patients in hospital=592 with an average age of 61
New, confirmed deaths from COVID=27
Essex County
14-day average incidence rate=19.5
14-day percent positivity=2.6
Case counts, last 2 weeks, 2,175
Deaths, last two weeks=58
Salem
14-day average incidence rate=20.0
14-day percent positivity=2.1
Case counts, last 2 weeks=126
Peabody
14-day average incidence rate=21.8
14-day percent positivity=3.2
Case counts, last 2 weeks=171
Chelsea
14-day average incidence rate=21.9
14-day percent positivity=2.
Case counts, last 2 weeks=113