Hospitality, gentrification, and pride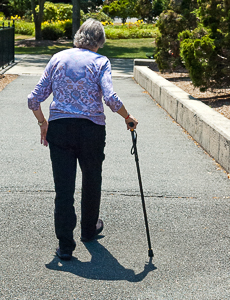 This is a story about generosity, hospitality, gentrification, and pride in Peabody.
V., a friend and neighbor, had at one time managed the Haven from Hunger, where anyone can be fed or get food for free. To make up for a lack of funding, V. had spent her own savings to provide food for the Haven. After she had moved away, I learned in a news story that she had become homeless, and was eating at the Haven from Hunger.
Close to where I live in Peabody is the Haven from Hunger. Some of our civic leaders, including a city councilor, work to raise funds to support that service. The homeless and poor of Peabody depend on that food.
But some policies are less friendly to the homeless.
Nearby, along the road to the post office, library, supermarket, drugstore, a park, or City Hall, there used to be a few benches. Now, I'm finally old enough so that even on a short walk, it is a relief to sit down on a bench for a few moments, and longer if the weather is pleasant. But the benches have been removed. Why?
I have reason to believe that the benches were removed in order to keep homeless people from view, or perhaps to get rid of people who didn't fit the image of a gentrified downtown.
A phrase from the song by Buck Owens and David Yoakum, "The Streets of Bakersfield," comes to mind:
Hey you don't know me, but you don't like me
I have learned that Peabody people are hospitable. We welcome and respect strangers and we provide help to the needy.
But that view of our community is not consistent with two problems: the missing benches and making the homeless invisible.
We can resolve this by a program to provide a home to every homeless person, perhaps by adopting the "housing first" approach which has been shown to save money, including by avoiding emergency hospital services.
When we have helped the homeless, we can install benches throughout the downtown area, creating a pedestrian friendly environment.
Let's work with the Mayor and City Council to explore how we can mobilize the good people of Peabody to solve these related problems, perhaps in concert with neighboring communities. And then we can be really proud of Peabody.
Please see the video and references listed below for examples of "housing first" efforts to deal with  homelessness.
---
Lloyd Pendleton  at TEDMED 2016
The Housing First approach to homelessness
What do you think would happen if you invited an individual with mental health issues who had been homeless for many years to move directly from the street into housing? Loyd Pendleton shares how he went from skeptic to believer in the Housing First approach to homelessness -- providing the displaced with short-term assistance to find permanent housing quickly and without conditions -- and how it led to a 91 percent reduction in chronic homelessness over a ten-year period in Utah.
https://www.ted.com/talks/lloyd_pendleton_the_housing_first_approach_to_homelessness
Wikipedia
Housing First is a relatively recent innovation in human service programs and social policy regarding treatment of people who are homeless and is an alternative to a system of emergency shelter/transitional housing progressions. Rather than moving homeless individuals through different "levels" of housing, whereby each level moves them closer to "independent housing" (for example: from the streets to a public shelter, and from a public shelter to a transitional housing program, and from there to their own apartment in the community), Housing First moves the homeless individual or household immediately from the streets or homeless shelters into their own accommodation.
Housing First approaches are based on the concept that a homeless individual or household's first and primary need is to obtain stable housing, and that other issues that may affect the household can and should be addressed once housing is obtained. In contrast, many other programs operate from a model of "housing readiness"—that is, that an individual or household must address other issues that may have led to the episode of homelessness prior to entering housing.
https://en.m.wikipedia.org/wiki/Housing_First
United States Interagency Council on Homelessness
"...people experiencing homelessness—like all people—need the safety and stability of a home in order to best address challenges and pursue opportunities. 
The Housing First approach connects people back to a home as quickly as possible, while making readily available the services that people may need to be stable and secure."
https://www.usich.gov/solutions/housing/housing-first/
European examples
"Finland is the only EU country where homelessness is falling. Its secret? Giving people homes as soon as they need them – unconditionally."
https://getpocket.com/explore/item/it-s-a-miracle-helsinki-s-radical-solution-to-homelessness?utm_source=pocket-newtab
http://housingfirstguide.eu/website/the_guide/unit-2-core-principles/