COVID Transmission in Essex County and Peabody, Massachusetts
November 28, 2022. Information about transmission and ongoing current infections in Essex County and Peabody, Massachusetts.
Although elderly people are at very high risk, simple steps can provide good protection against transmission and infection. Especially when transmission levels are persistently high, your actions can protect you and everyone around you. And when you work together with your neighbors, family, and everyone you see, you can all be safer together.
It's not hard: Vaccinate; boost; ventilate; mask; hand hygiene; avoid unmasked gatherings.
If you have COVID symptoms, have been exposed, or had COVID and want to be sure you're clear, get tested. And report the results of your test at https://makemytestcount.org
The pandemic has become a plague of the elderly, with nearly 9 out of 10 deaths in people 65 or older.—Ariana Eunjung Cha and Dan Keating, The Washington Post, November 28, 2022 
Links to data sources included here enable the reader to learn the situation in their locality. The sources used are the CDC data on transmission; levels of COVID found in wastewater; and % positivity in Essex County and Peabody. These are all leading indicators preceding cases, hospitalizations, and deaths. Use these warnings to protect yourself.
For information about strategies for protecting yourself and your community, see The New "How to Avoid COVID"
Community Transmission in Essex is High
---
High wastewater RNA levels are usually followed within several days by a rise in cases.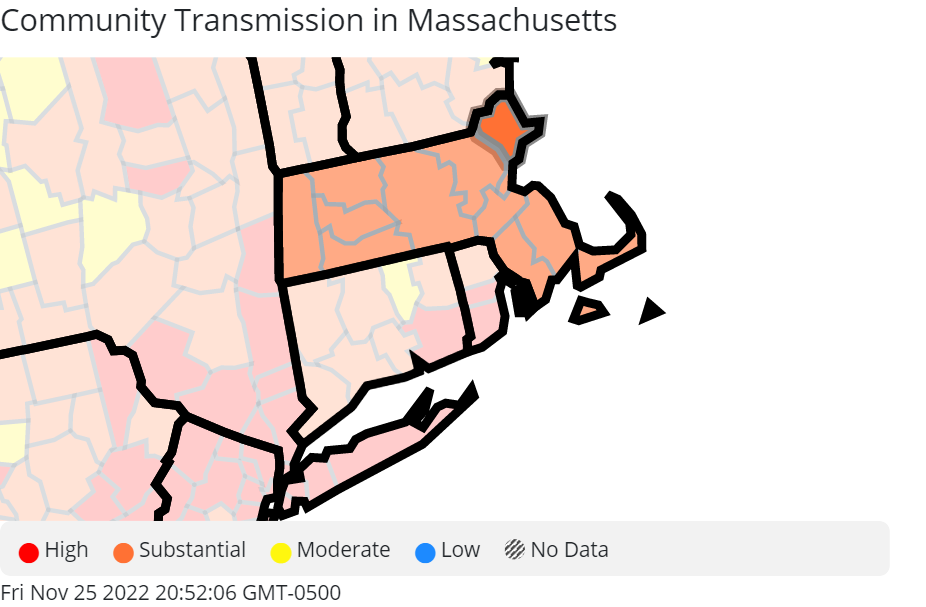 Current 7-days is Thu Nov 17 2022 - Wed Nov 23 2022 for case rate and Tue Nov 15 2022 - Mon Nov 21 2022 for percent positivity. 
Source of map: 
https://covid.cdc.gov/covid-data-tracker/#county-view?list_select_state…
---
UPDATE FOR PEABODY & ESSEX COUNTY on November 25, 2022
Reported on:  11/24/2022
Period:   11/06/2022 to 11/19/2022
Peabody 14-day Percent Positivity: 4.61% (lower)
Essex County 14-day Percent Positivity: 5.53%
Biobot wastewater counts for Peabody & Salem @ SESD-Peabody-Salem: Latest report, November 10. On November 21= 1.3 million copies of viral RNA/L. (increased)
Source: SESD-PEABODY-STATION
Samples are currently taken 1 - 7 times a week and analyzed by Biobot Analytics, a wastewater epidemiology company based in Cambridge, MA. The graphs represent the "7-day averages" which are the average viral copies over the past 7 days in each treatment plant. 
NOTE: NEW VARIANTS ARE ALMOST LIKE A NEW DISEASE, ABLE TO SLIP THROUGH IMMUNE DEFENSES, AND ARE SPREADING RAPIDLY. TAKE CARE! New boosters can help you, make sure you are fully vaccinated and boosted. Use N95 masks when indoors and when in any crowded situation. Fresh air ventilation can reduce risk. Hand hygiene is still important. Protect yourself and others from the flu as well as COVID.
---
Leading Indicators of COVID in the Community
Massachusetts Department of Public Health, COVID-19 Dashboard, Weekly Data by City and Town This is the source for positivity data cited in this paper.
---