COVID Transmission in Essex County and Peabody, Massachusetts
June 30, 2022. Information about transmission and ongoing current infections in Essex County and Peabody, Massachusetts. Links to data sources enable the reader to learn the situation in their locality. The sources used are the CDC data on transmission; levels of COVID found in wastewater; and % positivity in Essex County and Peabody. These are all leading indicators preceding cases, hospitalizations, and deaths.
For detailed information about strategies for protecting yourself and your community, see: The New "How to Avoid COVID"
CDC/Commonwealth data on transmission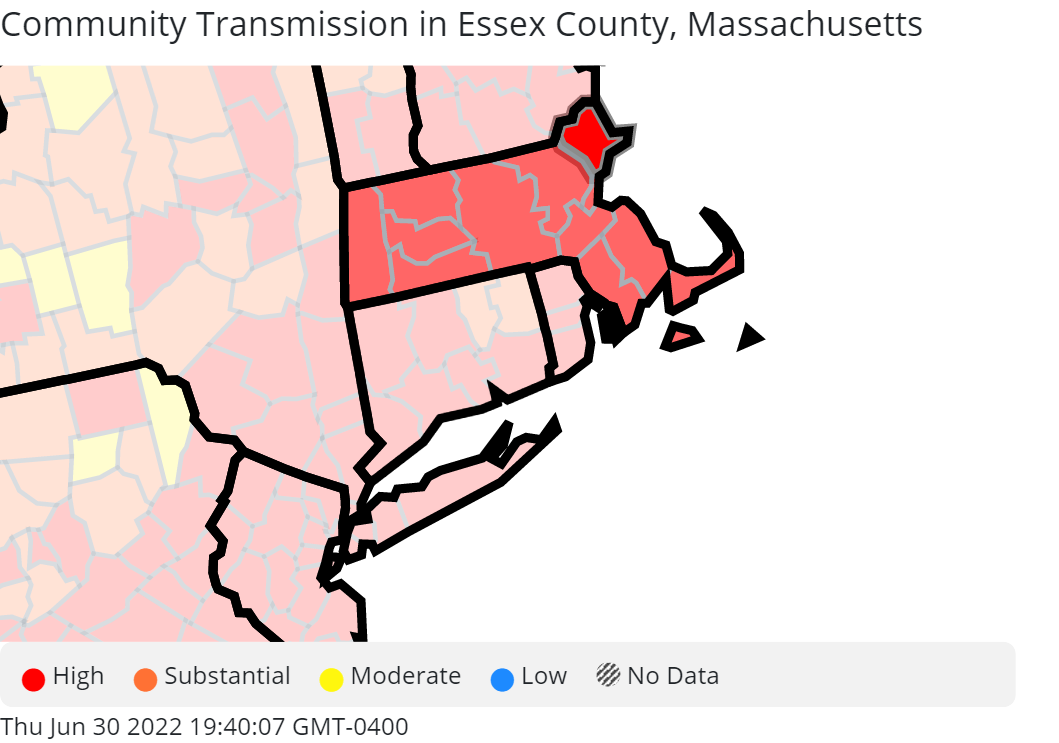 ---
In Essex County, on June 30: continuing high positivity, but lower: 5.67%; down slightly from 5.91%, was 6.71%, was 7.97%, was 9.86%
Biobot wastewater counts for Northern Region, at Massachusetts Water Resources Authority, Deer Island: June 29, n=650 viral RNA copies/mL . Note that almost all the viral RNA is from BA 2 variants; new variants BA 4&5 are rapidly spreading and pose new threat.
Biobot wastewater counts for Essex County: June 29, most recent value, 625 virus copies / mL
---
UPDATE FOR PEABODY 01960 on June 30, 2022
Reported on:    6/30
Period:      6/12/2022 to 6/25/2022
Peabody 14-day Percent Positivity: 5.57%
Essex County 14-day Percent Positivity: 5.67%
 
---
Leading Indicators of COVID in the Community
Massachusetts Department of Public Health, COVID-19 Dashboard, Weekly Data by City and Town This is the source for positivity data cited in this paper.
---
Evidence of COVID in wastewater samples has emerged as a leading indicator of COVID infections likely to appear in ~10 days.
Test results from MWRA's pilot study to track wastewater at the Deer Island Treatment Plant for indicators of COVID-19 infection are posted on this site.
Samples are currently taken 3 - 7 times a week and analyzed by Biobot Analytics, a wastewater epidemiology company. Data are updated as received by Biobot following an internal review process. The North district includes Essex County.
For Essex county wastewater data, go to Biobotic Analytics