How to Protect Elderly and Disabled Tenants from COVID-19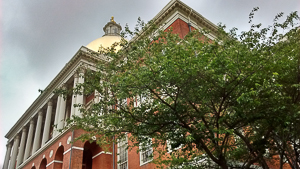 An Open Letter to the Honorable Governor Charles D. Baker
June 24, 2020
Dear Governor Baker,
New, stronger standards and protocols with effective oversight around disease prevention need to be established to assure protection from COVID-19 for the 92,000 tenants of public and subsidized housing for elderly and disabled.
We urge you to establish:
continuing standards for housing providers and tenants that are appropriately more protective than for the general population;
to institute effective oversight over private subsidized as well as public housing for elderly and disabled;
and to enable the distribution of facility-specific public health reports to guide housing providers and tenants.
The risk of infection by COVID-19 is reduced for the general population in the Commonwealth as a result of your leadership guiding people to accept restrictions on gathering and to follow the public health protocols. You should be congratulated for this progress.
The systems that may protect the general population from COVID-19 are not sufficient to protect vulnerable populations, such as the elderly and disabled living in public and subsidized housing. 
The chances of severe illness and death remain high for people in these high-risk categories, and the risk of infection is increased by the new freedoms for the general population. Prevention has urgent priority, and may be the only way to survive.
Oversight is an essential function of government
In public and subsidized housing for elderly and disabled, we today need a renewed focus on prevention and a system of oversight to assure that tenants and housing providers act responsibly.
I watched today as you presented the findings of the investigative report by Mark Pearlstein on the COVID-19 Outbreak at the Soldiers' Home in Holyoke. We all mourn the loss of life, the suffering of the staff, and the  grief of the families of the soldiers who died. One of the most striking features of the report is the failure of leadership and the lack of effective, timely oversight.
Just as in the tragedy at Holyoke, the core problem in housing is the lack of oversight. And this impacts on the COVID-19 epidemic.
Oversight is insufficient in housing. I was honored when you appointed me to serve as a member of the Commission on Bullying in 2016-2017. In the research which I helped to lead, we discovered that, despite the pain and harm done by bullying and mobbing, victims had no protection. In both public housing and private subsidized housing, although landlords have a responsibility to assure the "peaceful enjoyment" of all tenants, many did not act to protect victims of bullying. In my minority report, I detailed these issues, and since then have advocated legislation to establish an ombuds office to protect tenants and a system of accountability so that landlords would have an incentive to act responsibly.
Recently I have seen how the lack of cooperation among housing providers and tenants contributes to increased exposure to COVID-19 as well as to bullying.
The risk to elderly and disabled in housing
According to the CDC, the documented incidence of COVID-19 was 30% in persons of age 60 and above.
"The percentage of ICU admissions was highest among persons with reported underlying conditions aged 60–69 years (11%) and 70–79 years (12%). Death was most commonly reported among persons aged ≥80 years regardless of the presence of underlying conditions (with underlying conditions 50%; without 30%)."

"These findings highlight the continued need for community mitigation strategies, especially for vulnerable populations, to slow COVID-19 transmission."—CDC, Coronavirus Disease 2019 Case Surveillance — United States, January 22–May 30, 2020
The risks associated with opening
We are currently experiencing a series of stages of reopening. This will increase the interactions of tenants with the outside public while also increasing the number of visitors to the housing community. This increase in outsider interactions expands the network of potential transmission.
Continuing to check on and support older residents—or building better systems to do so will remain critical too, as needs for assistance and social contact will not abate for those continuing to shelter at home.---Jennifer Molinsky, Housing Perspectives: As Economy Reopens, Guidance Must Consider Older Adults' Living Situations, June 22, 2020; Harvard Joint Center for Housing Studies  https://www.jchs.harvard.edu/blog/as-economy-reopens-guidance-must-consider-older-adults-living-situations/
Failure to protect vulnerable people
We have seen how the failure of oversight and transparency allowed infections to take the lives of veterans, elderly, and people with special needs. We have also seen how even a short delay in diagnosis and response can result in many more people becoming infected. Such outcomes can be prevented in public and subsidized housing only if we gather and act on information in a timely way.
Based on what has been observed in VA homes, nursing homes, and assisted living programs, COVID-19 has devastated the residents of many facilities because of several factors:
failure of oversight by municipal public health, state public health, agency hierarchy. People at the top didn't know or didn't act.
lack of transparency: no one outside the institution knew what was happening, and often the staff and tenants were not kept informed about infection in the facility
lack of effective infection control methods
lack of materials (PPE, hand sanitizer) to prevent transmission
lack of information at the level of the specific institution; a new law will enable collecting and distributing this data
https://malegislature.gov/Laws/SessionLaws/Acts/2020/Chapter93
and see open letter, http://stopbullyingcoalition.org/S2753
paradoxically, in settings making an intense effort to create an active social life and interaction with the surrounding community, there were increased infection rates, so that some of the "best" places saw more disease and death, until protective measures were instituted.
Vulnerable populations in public and subsidized housing
Public housing and subsidized housing residential developments for elderly and disabled have many of the same social and structural vulnerabilities as residences for independent and assisted living.
The COVID-19 pandemic has challenged everyone. Health departments are being attacked for applying basic public health measures, housing providers are faced with new demands, and there are no established routines that offer simple answers. But some housing programs that are run with compassion have developed some "best practices." Other housing providers do the minimum or less.
Best practices
Some "best practices" for protecting tenants and staff are readily available and applicable to both public and subsidized housing for elderly and disabled.  They have been developed by professional managers working in organizations that take responsibility for the well-being of their tenants, and they welcome the new law that would provide information about infections and deaths in every development. In fact, several housing providers are seeking to extend their access to information to enable them to better provide for their tenants. But other housing providers want to prevent this transparency. http://stopbullyingcoalition.org/S2753
We ask that you:
establish continuing standards for housing providers and elderly and disabled tenants that are appropriately more protective than for the general population
institute effective oversight over private subsidized as well as public housing for elderly and disabled;
enable the distribution of facility-specific public health reports to guide housing providers and tenants.
Thank you for your consideration. Please do not hesitate to contact me with any questions.
Sincerely,
/signed/
Jerry Halberstadt
Coordinator, Stop Bullying Coalition
Tenant in subsidized housing
Bonny Zeh
Co-founder, Stop Bullying Coalition
Tenant in Somerville HUD-subsidized
Lynn Costello
Co-founder of Lowell Anti-Bullying Coalition
Tenant in Lowell Public Housing
Lorraine Lavoie
Tenant in Waltham; subsidized, HUD project based Section 8
Lori Bermani
Tenant in Salem Public Housing
 
---
Detailed protocols
Hebrew SeniorLife. See: https://www.hebrewseniorlife.org/covid-19/resources-senior-care-organizations
2Life Communities Protocols
https://www.2lifecommunities.org/covid-19-protocols-and-procedures
See also:
http://stopbullyingcoalition.org/prevention
http://stopbullyingcoalition.org/covid
CDC: Preventing the Spread of COVID-19 in Retirement Communities and Independent Living Facilities