Massachusetts Enacts Landmark Law to Stop Bullying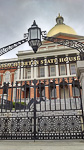 At Beacon Hill in Boston, Massachusetts legislators in the final hours of the legislative session July 31, 2016, passed S1984, a landmark bill to protect elderly and disabled victims of harassing and bullying. The law would establish the nation's first state legislative study commission on bullying, shining light on the widespread plague of bullying impacting residents of multifamily public and subsidized housing. When signed by Governor Baker, the commission will enable all stakeholders to work together to begin finding effective remedies.
By working together, patiently and persistently, and by forming alliances and partnerships in the community, with victims, advocates, and with our legislators, our coalition has achieved a great step forward. Thank you for what you have done, and for what we will do together to eliminate bullying..
Legislators heard the emotional and painful stories of victims of bullying, including that of an Attleboro resident of multifamily housing. "Margaret" is a person living with disability who spoke out for the rights of the several other disabled persons who were the victims of bullying. For her troubles, she was mobbed and unfairly evicted, and made homeless for over a year and a half. Many others testified to the seriousness of the problem before hearings of the Joint Committee on Housing. At least 20% of independent living elderly residents of multifamily housing are bullied.
A bill sponsored by Joan B. Lovely, Bradford R. Hill, Leah Cole, William N. Brownsberger, and other members of the General Court including Barbara L'Italien, Bruce E. Tarr, Richard J. Ross, James M. Murphy, and Jason M. Lewis was amended and sponsored by the Joint Committee on Housing as S1984. They were joined by their colleagues including the leadership of House and Senate in the General Court, spearheaded by the combined North Shore delegation, all pushed to create a commission to bring together all the stakeholders in housing to better understand the causes, and find solutions to, bullying and harassing.
The 19-member commission will include leaders of the House and Senate, executives of several state agencies, and members appointed by the Governor to represent the interests of managers and residents. The Commission is to hold hearings to gather testimony from all interested parties, and make a report by the end of 2017.
Senator Joan B. Lovely, the primary sponsor of the legislation, stated, "I was prompted to file this bill through the efforts of an engaged and impassioned constituent named Jerry Halberstadt who brought forth the issue of bullying in subsidized housing after working with victims. This constituent came to me seeking to be a voice for those who were afraid or unable to speak for themselves and it has been an honor to partner with him and sponsor this legislation to address the issue."
Jerry Halberstadt, an elderly resident of subsidized housing and Coordinator of the Stop Bullying Coalition, said, "We are grateful to Senator Lovely and Representative Hill and all the members of the General Court for treating us with courtesy and respect, and  demonstrating an understanding and empathy for the victims of bullying. They treated us as partners in the process and exemplify the best traditions of democracy. The combined efforts of the North Shore delegation helped to assure passage of the legislation. I was honored to partner with Joan Lovely, my Senator, Thomas Walsh, my representative, Representatives Brad Hill and Ted Speliotis and other senators and representatives on the North Shore, many legislators from other areas, and to have received the support and advice of local leaders, as well as advocates and individuals from every part of the Commonwealth."
Despite the legislative logjam, the bullying commission received expeditious treatment under the leadership of Senate President Stanley Rosenberg; Speaker of the House, Robert DeLeo; and key committee chairs including Representative Ted Speliotis, Chair of the House Committee on Bills in the Third Reading, Representative Brian S. Dempsey, Chair of the House Committee on Ways and Means; and the Co-Chairs of the Joint Committee on Housing, Senator Linda Dorcena Forry and Representative Kevin G. Honan as well as past chair, Senator James Eldridge. Other proposals by Representatives Paul Heroux, who supported S1984, and Diane DiZoglio, can be addressed by the commission.
Michael Kane, Executive Director, Mass Alliance of HUD Tenants, said, "Legislative leaders are to be commended for their recognition that bullying and harassing are epidemic in government subsidized housing, especially afflicting the elderly and people with disabilities. People have the right to live out their final years in dignity and peace. We look forward to working with legislators, agencies, and allies to forge creative solutions through the Commission in the months ahead." michaelkane@saveourhomes.org
Mary Margaret Moore, Executive Director of the Independent Living Center of the North Shore and Cape Ann, said, "I applaud this step to stop discrimination and abuse of those of us who live with disabilities and those of us who are seniors, and some of us who also have disabilities. Our battle for full civil rights and a life of safety on our homes is advanced by this bill. Thank you to our legislators!"
Merrill Falk, Chairman of the Attleboro Council on Human Rights and Lynda M. Thomas-LeGay, Secretary have testified on Beacon Hill and said that, "The formation of a commission is a good start. What is even better is a short time frame to effect policy and directives and put all housing residences on notice that bullying will no longer be tolerated! It is time to put an end to bullying everywhere!"
Karen Carson, representing MAHT and the disability rights community, said, "This legislation will bring to light a problem that has remained hidden due to fear of retaliation. I was one of the victims of this treatment.   Now tenants will be empowered to speak up and make a difference in their lives and  will not live with fear of a backlash effect."
Publia, Research Associate, Stop Bullying Coalition and a resident of public housing said, "The two best things I did as a victim of bullying by my neighbors to seek a remedy, was to contact Jerry Halberstadt and my State Senator, Patricia Jehlen. Our elected representatives listened and acted. They proposed that a first step was to create a commission consisting of members representing all interest groups including: tenants, landlords, building managers, and resident service coordinators. Bullying is a problem to be managed together—and, with this commission, we're taking an important first step to create a safe and secure environment for all. The State House is the Peoples' House."
Jonathan Gale, co-coordinator of the Stop Bullying Coalition, said "Unfortunately, a disproportionate number of people with disabilities find themselves living in public housing because they rely on a fixed government supported income. All too often, simply because of their disability, they are the victims of bullying, not only by other tenants, but by management as well. Now, for the first time, thanks to the hard work of our coalition partners and the positive response of the legislature, we can finally start the process of listening, learning, educating, and putting into place laws and regulations that will give all of us the opportunity to live in a safe home and community."
Halberstadt added,"Now we can begin the hard work of understanding the roots of bullying through listening to the experiences and perspectives of all the stakeholders— housing providers, managers, service coordinators, residents and others with expertise. Only then can we begin the conversation to find solutions."
-------------------###-----------------
PEOPLE AND ORGANIZATIONS
The Stop Bullying Coalition is open to all organizations and individuals working to prevent bullying of citizens, particularly in subsidized housing in the Commonwealth. The work of coordination has been done by Jerry Halberstadt assisted by Jonathan Gale, an advocate for those living with disability. Gale is totally blind and has lived in public housing on the south shore. We are ably supported by Publia, our research associate and citizen advocate. http://stopbullyingcoalition.org/
Jerry Halberstadt, the Coordinator of the Stop Bullying Coalition (SBC), has lived in privately-owned, HUD-subsidized housing where he confronted bullying and mobbing. For three years he was one of founders and leaders of the tenants' association. He is a writer, photographer, and publisher, has an MA in Anthropology and has consulted on issues of empowering and including minorities in the US and Israel. His forthcoming book  is Stop Bullying: Creating Healthy Communities for the Elderly and Disabled, (Peabody: Togethering Press, Forthcoming 2017).
Partners or supporters of the legislative effort include:
Mass Alliance of HUD Tenants (MAHT)
Mike Kane is the Executive Director of the Mass Alliance of HUD Tenants (MAHT). MAHT is the only resident-run, membership coalition providing organizing and technical assistance to HUD tenants in Eastern and Central Massachusetts. Their mission is to preserve and improve at-risk HUD buildings as permanently affordable housing with a maximum of resident participation, ownership, and control.
http://www.saveourhomes.org/maht/
Mass Union of Public Housing Tenants (MUPHT)
Mass Union is the only state-wide association of public housing tenants in the United States. Its 13- member board is elected from tenants who live in public or subsidized housing. Mass Union has been formally recognized and funded by the State's housing agency (the Department of Housing and Community Development), and also recognized by the Federal Department of Housing and Urban Development as a partner in drafting of regulations and policies. Massachusetts Union of Public Housing Tenants, 784 Washington Street, Suite #504, Dorchester, Massachusetts 021224
Independent Living Center of the North Shore and Cape Ann
Mary Margaret Moore is the Executive Director of the Independent Living Center of the North Shore and Cape Ann Inc (ILCNSCA), a service and advocacy center run by and for people with disabilities. ILCNSCA supports the struggle of people who have all types of disabilities to live independently and participate fully in community life.  27 Congress Street, Suite 107, Salem, MA 01970 Phone/TTY: 978-741-0077 Email: information@ilcnsca.org
Attleboro Council on Human Rights (ACHR)
The Attleboro Council on Human Rights (ACHR) was established within the municipal government in 1994. ACHR, under the supervision and control of the Mayor, works to promote mutual respect and understanding among individuals and groups in the city by improving the quality of public discourse and eliminating unlawful discrimination. ACHR consults with departments, boards and commissions of the city and other organizations within and without the city which have interest and responsibility for eliminating discrimination and protecting civil and human rights. Attleboro Council On Human Rights, City Hall, Government  Center, 77 Park Street, Attleboro, Ma. 02703, Phone (508)223-2222 Ext. 3221
http://www.cityofattleboro.us/acohr/
Citizens' Housing and Planning Association (CHAPA)
Karen Wiener is the Interim Executive Director of Citizens' Housing and Planning Association; Eric Shupin is their Policy Associate. Their mission is to encourage the production and preservation of housing that is affordable to low and moderate income families and individuals and to foster diverse and sustainable communities through planning and community development. 18 Tremont Street, Suite 401, Boston, MA 02108 Phone: 617-742-0820. http://CHAPA.ORG
CONTACT:
http://stopbullyingcoalition.org/contact
PUBLISHED STORIES
BULLY PULPIT IN PEABODY   ItemLive
PEABODY — A Peabody man's experience paved the way for a measure establishing a study commission on bullying in public housing that was passed by lawmakers Sunday.
Five years ago, Jerry Halberstadt, 80, launched the Stop Bullying Coalition to help stem the tide of abuse against elderly and disabled public housing residents.
http://www.itemlive.com/news/bully-pulpit-in-peabody/
Legislature passes Peabody man's anti-bullying bill Salem News
By Taylor Rapalyea Staff Writer
PEABODY — Two years ago, a Peabody resident drafted a bill designed to protect seniors from systemic bullying in subsidized housing. 
Commission to study bullying in public housing Sun Chronicle (Attleboro)
BY JIM HAND / SUN CHRONICLE STAFF
The Legislature has passed a bill creating a commission to study the issue of bullying in public housing complexes, an issue raised by Attleboro residents over the years.
State Rep. Paul Heroux, D-Attleboro, said he has been pushing for action for 2 1/2 years after hearing from residents.