Social Aggression, Bullying, and Mobbing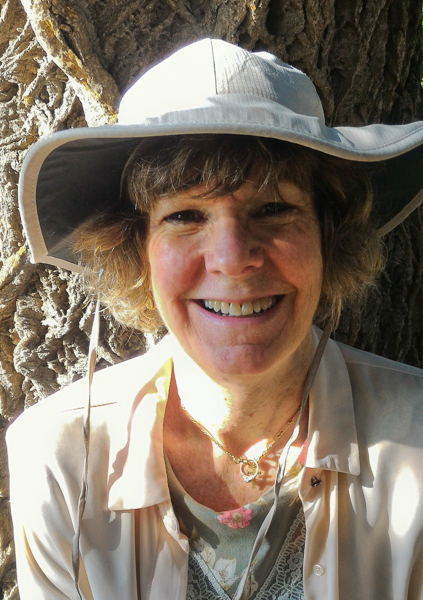 Tenants report on solutions


 
Pamela Goodwin, a tenant in subsidized housing in Greenfield, initiated and organized a panel presentation on social aggression, bullying, and mobbing that was held on Saturday, April 30, 2022, as part of the 51st annual spring convention of the Mass Union of Public Housing Tenants (MUPHT ) in Marlborough MA.
Goodwin, a board member and secretary of Mass Union is a whistleblower and warrior for justice, unfailingly honest and compassionate, diligent in her pursuit of fairness and justice for all.
Goodwin responded to a groundswell of concern among tenant leaders about bullying and mobbing. She knows that a legislative solution is not in sight and that the existing systems do not provide relief to targets of bullying. She decided to enlist the experience of other tenants who, like herself, had tried to find their own solutions.
Goodwin told the audience, that
"You are all experts on bullying and are heroes."
The panel members were Donald Hamilton, a new member of the Mass Union board who lives in Fall River, and Jorge Maldonado, a leader of his Worcester Housing Authority building of about 200 tenants.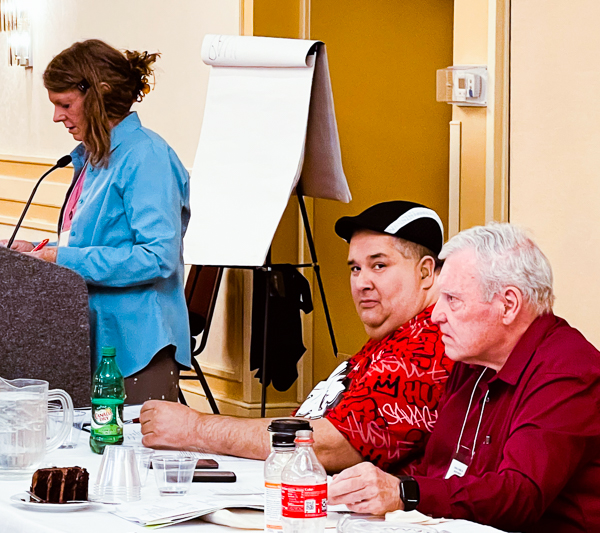 ---
Donald Hamilton
"It is most important to have the trust of the tenants so they will come to us. I have lived for 15 years in a small state property of 54 units, and for the last 7 years, I have been the president of the tenants association. I know most of the people and have gained some trust and they come to me. Over time people get to know you. "
Donald Hamilton takes people to all their appointments and is constantly finding ways to help people to overcome their problems. He noted that many in a community living situation have mental health issues. When a person is upset, Donald doesn't confront them, instead speaks softly, tries to talk them down.
People of different cultural, religious, and other identities can have problems getting along. When the tenants tried to organize a Cinco de Mayo event, no one came. Dominicans don't get along with Puerto Ricans. People of different backgrounds avoid each other although they have the same language.
"My job is helping my fellow tenants find the help they need. A nurse, PCA, or transport to a doctor. Connecting with organizations in housing or the community, sources of help they don't even know about."
In situations of bullying, the target or the bully could not remain in the community, A ringleader became an agitator, a kingpin, it took a lot of work by tenants to get that person moved out to the assisted living.
"This was a bad year, 8 deaths from old age and illness between November through January. As many as 14 people have had COVID. Now most have had their vaccinations, except 3 because of medical issues and one because of belief."
During the isolation imposed by COVID, visits by family were not allowed, this caused serious distress. Because of COVID, we were in our apartments for over a year. One woman was vulnerable when visitors were allowed and was bullied by her grandchildren.
When we become aware of a serious behavioral health issue, we reach out to management and the resident service coordinator in a collaboration to help the resident and resolve the problem. They can provide health care, including mental health services as well as cleaning and other needs to enable the resident to remain in housing.
 
We have been lucky with managers. The first manager was a bully. The second was a saint, who went out of her way for tenants. Third, also a saint, did everything possible to help tenants. Too early to say about the new manager. Tenants have to cope with the demands of the manager who wants the rent check mailed, but this is a challenge for some. Some tenants speak Spanish or Portuguese but don't understand their lease which is in English only.
---
Jorge Maldonado
Jorge's mother brought her large family to Worcester from New York.
She admonished Jorge, "Always be honest with yourself and people." While Jorge was growing up in Jersey City, a "rough town," his grandfather taught him to "Respect your elders, they are the teachers."
Jorge has lived by and extended these lessons. In his volunteer role as an officer of the tenant association in a 200-tenant Worcester Housing Authority building, he is the greeter. He opens the office, prepares coffee, and greets everyone with a smile, inviting them to have coffee and cookies. The key to his work is to know the people, listen to them, understand their concerns, and provide support and resources.
"By listening to each person I create a mood of trust as a way to reach a person's heart and mind. They will tell you their story. What they feel. I try to be honest, humble, a good listener, and a peacemaker. I am like a teacher, philosopher, peacemaker, and psychiatrist. I give them an opinion as a friend. When they go out the door, we smile. I tell them to come if they have issues. I want them to feel secure, surrounded by friends."
We officers are volunteers working for the residents. We have our bylaws and rules, and we assure rights for residents. We are serious when elders are pushed around.
If there is bullying: we have a meeting of the officers and we bring it to the manager; management deals with it. We provide moral support to the target, "We are your family."
"We don't deal with bullies, that is up to the manager. We have laws, bylaws, rules, and regulations. We try to help targets of bullying; we get the resources, and numbers to call. I coach and cheer for them."
We have no issues among the leadership and tenants. We have monthly resident meetings, we sit and talk, and see what is the best solution. We try to make it better for residents.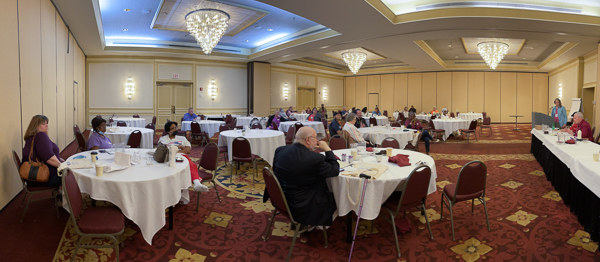 ---
Pamela Goodwin
Mass Housing conducted a two-hour training on social aggression that Goodwin attended. "Social aggression" may be politically correct, but I talk about bullying, mobbing, and targets.
When you are targeted, the bullies will claim you are the bully. And then you get labeled as a nuisance tenant, and will forever be at a disadvantage.
Goodwin spoke about her own experience with bullying and mobbing, and her seven years of working with Jerry Halberstadt in the research and legislative advocacy of the Stop Bullying Coalition. Since Halberstadt was unable to attend, Goodwin presented his article, Protect Our Rights—Stop the Mobbing . Goodwin described his work to stop bullying as his "life work," beginning when he was threatened by a neighbor with being run over and then went to court for protection against the harassment.
When he saw that fair housing rules only protect people in designated classes, he wrote legislation to seek protection for all. He seeks an ombuds office with teeth, and tells our legislators on Beacon Hill that we need a hotline for elderly and disabled, with enforcement and accountability.
Pamela has seen toxic situations in both public and subsidized housing. Her experiences in public housing were so toxic that she chose to be homeless.
In subsidized housing, when the situation had become impossible, Nancy, an experienced resident service coordinator that was brought back from retirement, told her,
"Pamela you are in a living hell. Stay away from toxic people."
Pamela described how she was able to work with Emily, a new resident service coordinator and the landlord's director of all housing to address problems between management and tenants, and among tenants. COVID restrictions on meeting led to a buildup of tensions along with isolation. Tenants had to isolate to avoid the friction as well as to avoid COVID. There was a turf war, some people who didn't like the tenant's association, stayed out of the common room. Some tenants were frustrated with the tenant's association and with the failure of management to respond to tenant concerns including mold in apartments. In addition, the manager targeted Goodwin and several other women, leading to his dismissal.
Goodwin tried to work with the manager, but then reached out to a management supervisor, who was responsive and worked to deal with the issues. The solution involved getting the ineffective manager replaced; bringing in an experienced manager; setting up activities like an exercise class, bringing in a nutritionist, and blood pressure checks. The community garden had been the source of friction among tenants, so the resident service coordinator now oversees the garden. A suggestion box is in the works. The manager is only available part time of the week for a building with over 120 tenants, and is available by phone; the assistant is on site full time.
The resident service coordinator, Emily, helps residents and directs them to services they may need, while management is responsible for admitting or evicting tenants—tenants have no say.
Goodwin has been part of the legislative advocacy to seek funding for resident service coordinators, but funding may only be available for public housing, and not federal or subsidized.
Goodwin knows that isolation caused by bullying or by COVID is harmful. As a teacher, she had observed bullying in schools as well as housing.
"The children in my classrooms did not bully because I would not allow it."
She knows that landlords and managers can bully and condone bullying among staff and tenants; that failure is mobbing.
Goodwin has a constructive understanding of the challenges facing elderly residents. She know from experience how difficult it is for a tenant to get a reasonable accommodation.
"As you age, when your body fails, you don't feel powerful, and try to feel good by stepping on others. Loss of vision, hearing, mobility makes them mean anxious. They get cut off from family. We are too quick to run to the court."
Goodwin is enthusiastic about the ideas for winning rights she learned at the annual Fair Housing Conference held on April 5, 2022. She quoted several statements.
"I am a big fan of collaboration. We are in the fight of our lives."—Susan Forward, MCAD

"Law is but a dream until we have an enforcement mechanism."—Jamie Williamson, District Director of the Philadelphia office of the   Equal Employment Opportunity Commission (EEOC)

"Love, truth kindness. So whose truth? We must not engage in one upmanship. Not about personhood, it is about correcting agencies."—Chad Dion Lassiter, Executive Director, Pennsylvania Human Relations Commission.

"No moment to hate, too busy pursuing justice."—Mamie Elizabeth Till-Mobley, mother of Emmet Till

"Not going to allow the elite to kick our ass anymore. Not kumbaya. We shall overcome. We need dissenters, those who doubt, people willing to have a discussion. America will marry white supremacy or divorce from it."—Chad Dion Lassiter, Executive Director of Pennsylvania Human Relations Commission
Goodwin read a number of passages from Halberstadt's article, Assure Tenant Rights.
Goodwin concluded by quoting advice from her faith that she relies on.
"God doesn't intend for you to handle all the pain and stress in your life by yourself. We were wired for each other. We need each other."—Rick Warren
"Your community includes the supportive people closest to you. Sometimes these individuals are those in your immediate and extended family. But I also want you to recognize the encouraging and helpful friends who surround you- your church family, neighbors, coworkers, and long-distance cheerleaders. I've placed these people in your life for interactive fellowship and support.  When you try to carry your trials and anxiety all by yourself, you're easily discouraged. Share your concerns and needs with those you trust and give them time to speak about their challenges too."

"God designed people to need each other and to provide mutual support. You love your neighbor by carrying his or her emotional, physical, mental and spiritual loads.  Some of the burdens you'll carry for one another are worry, anxiety and sorrow.  When you do that for others, your own burden won't seem as heavy. As a community of people who care for one another, keep your focus on heaven, and that will make it much easier for you to endure trials."—Carol Kent, HE HOLDS MY HAND: Experiencing God's  Presence & Protection   
---
Q&A
The first question was,
"How do I say safe?"
Michelle McNickles, a tenant at St. Botolph Street. in the Boston Housing Authority, spoke about the failure of the landlord to address threats and the issues with drugs and robbery—issues that cause fear among the tenants. McNickles said she had been threatened with violence and assaulted, but in both cases the landlord failed to act. However, when she was falsely accused of discrimination (she had not been in Boston at the time!), the civil rights division was quick to call her. In a followup interview, McNickles agreed that we need to continue fighting for our rights, including seeking legislation to establish an ombuds office.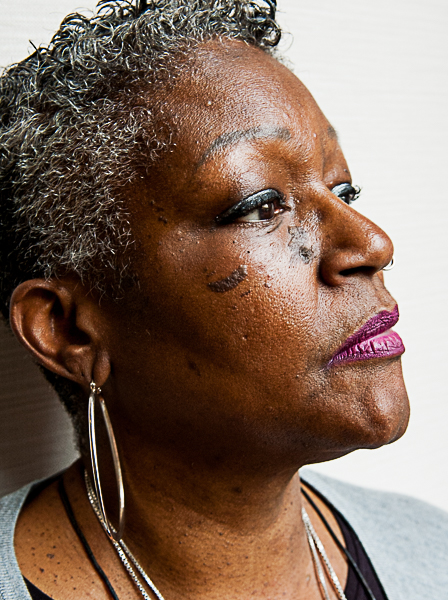 In an interview, McNickles described her understanding of what elderly people need from each other.
"When I moved into housing [11] years ago, I was surprised by bullying among seniors because we rely on each other. Some people who have been in public housing for 15-20 years take it for granted that they can run things, but they don't come to the meetings, they don't help out."

"We've had people pass away, and because they didn't interact with others, they weren't found for a long time. I find that devastating. No one should die alone. None of us should bully each other, because being seniors, we need each other. We need to check on each other to make sure that we're eating, to make sure we're alive. Some of us have formed groups to help each other eat. Some have arthritis or other limitations so we all check and do that for each other. I'd like to see more of that instead of forming groups to be against each other."

"The Boston Housing Authority (BHA) management is sometimes effective, sometimes their hands are tied. Police have to be cautious not to violate rights of a disabled person, even after he has violated the rights of others. The man who assaulted me with his wheelchair talks about how he knows all the important people, but that's like saying he is going to get a pass, and that's not acceptable. Every tenant has the same equal rights. He may have a problem, anger problems, help is available but he rejects help."

"We don't talk about the bullying among adults. But if we don't talk about it and acknowledge that they are there, nothing happens. These are habits that can be broken. The ombuds office legislation is the beginning of where we want to go. We have to acknowledge the problem, and this law is just the beginning. I hope it will go nationwide."
---
Resources
Fair Housing & Civil Rights Conference
The Fair Housing and Civil Rights Conference presents how to protect and further the rights of all Americans, both regionally and nationwide. Speakers discuss the state of fair housing and civil rights in America today and share their ideas on how to effect change.
Descriptions of each presentation and panel
Recordings of many of the sessions 
---
Goodwin in public housing
Righteous Indignation Confronts Mobbing
Now We Must Stop the Retaliation: An Open Letter to Legislators, the Governor, and the People 
---
Halberstadt
Protect Our Rights—Stop the Mobbing
---