My activism as a child, our activism today.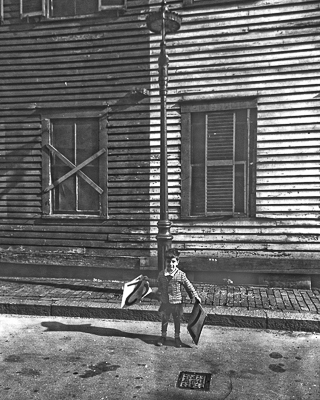 I became a proud activist in 1940 at the age of 4, when I assisted my father, Ernst, to do slum-clearance photographs in Mission Hill, Boston. The apparent success of our work helped to form the direction of my life work, seeking to empower the powerless.
I trained in social anthropology and have done documentary photography and social policy research. And today, I serve as Coordinator of the Stop Bullying Coalition seeking to assure the rights of elderly and disabled tenants living in public and subsidized housing. Together, we have made great progress but we have more to do.
Decades after 1940, I was disheartened to learn that only a few of the slum residents got into the new public housing project in Mission Hill, while other tenants, developers, workers, and the Boston Housing Authority prospered. But the Mission Hill project became a slum because of the lack of social programs.

We in the Stop Bullying Coalition advocate for human rights---the rights of tenants and the rights of all. Our mission is to assure peaceful enjoyment and safety for elderly and disabled tenants and accountability for landlords.

Like many of the 92,000 elderly and disabled tenants in public and subsidized housing in the Commonwealth, I have had to deal with bullying—by master perpetrators! I learned about the problems of subsidized housing for the last 10 years while a tenant.

Bullying deprives us of the right of peaceful enjoyment—the right to be free and safe in our homes. Although the Attorney General asserts that the landlord has the legal obligation to assure peaceful enjoyment—there is no accountability for the landlord and no protection for victims.

This social and political power imbalance is a form of bullying of the weak and powerless.
We can gain power by working together.

We partnered with legislators, both Republicans and Democrats, to create the Commission on Bullying and I served as Commissioner in 2016-2017. With my colleagues on the Commission, we provided the legislature with valuable new information about bullying in housing and proposed new policies.
However, I found that the real needs and perspectives of tenants were not  endorsed by the Commission. Therefore, and despite efforts to block my right to take this action, I presented a minority report to the legislature. The essentials of that report have been distilled into bill S985 to create a statewide, independent ombuds office.
The Stop Bullying Coalition and our legislative partners are working together to press for meaningful legislation to create a strong ombuds office to protect tenant rights.
The most rewarding and joyful part of this work happens when tenants and our legislative partners from both parties respond and work together: thank you Senator Joan Lovely and Representatives Brad Hill, Kevin Honan, and Tom Walsh, and all our Coalition partners.
The most painful part of this activism is to see a friend and colleague exposed to danger and the risk of death because they were made homeless by bullying and mobbing only because they have sought their rights.

I was a child in 1940 and naive to think that a slum clearance or urban renewal program would benefit the tenants who would lose their homes. Today, I fear that excessive deference to the landlord and the lack of accountability for landlords will continue to benefit everyone but the tenant in public or subsidized housing. Private developers are being enticed into partnerships to develop public housing. What rights will tenants have under those arrangements? And how can we assure the right of peaceful enjoyment to all tenants in public and subsidized housing?
Today, we are glad to see our work as a coalition help landlords and managers, as I helped to advance the interests of developers in 1940.
But that is not enough to satisfy us today.
We demand protection against bullying and mobbing for elderly and disabled tenants in public or subsidized housing and we demand that landlords be held accountable.
In a victory for the Stop Bullying Coalition, bills S984 / H1443 will provide new resources to assist in the administration of housing programs. These bills have been reported favorably by the Joint Committee on Housing and has gone to the next step, the Senate Committee on Ways and Means.

And our other bill, S985, to establish an ombuds office has not yet been approved by the Joint Committee on Housing.
That bill should
create an independent ombuds office to investigate complaints and provide protective services to victims and

 

use existing laws to hold landlords accountable by court action.
Please join us in our efforts to advance these bills. 
---
You can still reach out to your state senator and representative in support of S984 and S985 and make a difference for our rights, our safety, and our well-being.
Find my legislator

Do write us to confirm that you have contacted legislators, please include your zip code. Contact.