The public is invited to participate in the Joint Committee on the Judiciary's hybrid hearing on December 5, 2023 at 1:00pm.  Please note that the Chair will limit testimony to one time, for a total of three minutes, per individual.
The Office of the Attorney General has asserted that it is unlawful for a housing provider not to protect tenants from harassment. I wrote to seek a meeting with the Attorney General or the Policy & Government Affairs Division to discuss the issues around bullying, mobbing, and hostile environment harassment. I asked to include tenants and the legislative sponsors of H3868—a bill to create an office of the tenant advocate that would protect the rights of tenants when landlords fail to prevent hostile environment harassment.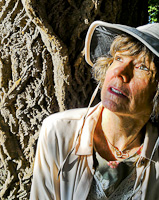 Free at Last
Pamela Goodwin has decided that living in a tent is preferable to seeking peaceful enjoyment in Upton public housing where she experienced bullying and hostile environment harassment.
Goodwin is an advocate for tenants' rights who has also been fighting for her own rights in the public housing in Upton, Mass.  She is a bright, energetic person whose knowledge of rules and regulations often exceeds that of the government officials and experts.
Agencies and organizations that provide advocacy, support, advice, and intervention